How to present well without slides
If you were having an important conversation with a friend at a restaurant, would you pull out a projector and put your slides on the wall? They'd think you were crazy as would the people at other tables. Rather that look into your eyes or give full attention to your words, your friend would have their minds divided between you and the images you were showing simultaneously.
Which raises the question: why use presentation slides at all? Most important conversations you will have in your lifetime happen without slides. And ask anyone who works in media: if the power went out and they could only show your slides or broadcast your voice, they'd go with your voice. Your voice, what you say and how you say it, is the most important thing. If you listen to This American Life or The Moth, it's clear how powerful a speaker can be with their voice alone.
Look at any list of the best speeches of all time and you won't find a single use of slides or other props. Of course slides and presentation software hadn't been invented then so it's unfair to make a direct comparison (For fun see The Gettysburg Address as a bad Powerpoint deck). Yet the question is easy to ask: would these speeches have been better if they were narrated over slides?
In many cases, no. You'd have to listen carefully to figure out when ideas would be better presented visually rather than with words alone, which is the secret for thinking about your own presentations: when do you truly need a visual image to express an idea? And when would it be better simply letting your voices tell the story?
Speaking without slides seems more challenging because:
You feel naked without the familiar crutch of slides behind you
It may require a different way to prepare
It demands more thinking and refinement of your ideas
Speaking without slides is often better because:
Audiences grant you more attention and authority over the room
You have no fear of slide or A/V malfunctions
You can never become a slave to your slides
It forces you to clarify and improve your ideas, making you a better speaker
But slides do have some advantages, including:
When is it best to speak without slides?
If I'm asked to speak for 20 minutes or less I often go without slides. More than 20 minutes and the dynamics of attention are more complex and I typically use slides, though less than many speakers do. I give the same advice to others: the shorter the talk, the simpler your presentation should be.
How to prepare a slide-free presentation
In Chapter 5 of Confessions of a Public Speaker ("Do Not Eat The Microphone") I provide a simple, well-tested method for preparing talks of any kind.  In short it looks like this:
Take a strong position in the title
Think carefully about your specific audience (why are they here? what do they already know?)
Make your 4 or 5 major points concisely (from a draft outline of 10 or 12 points)
Practice making your points without a single slide.
Revise #3 and repeat #4 until done.
This approach works with or without slides, but in all cases it forces you to develop your ideas into a solid outline and practice delivering it before you'd even consider making a slide. If you want to go entirely without slides, you're already prepared for that. And if you decide as you revise that you need slides to best make your points, then add them, but only after you've proven their necessity by trying to present without them.
If you want your ideas to take center stage, the slides should come late in the process so that they are used only to support what you're saying, rather than the other way around. Even if you are a visual thinker and need something to look at to develop your ideas, develop your ideas and rehearse assuming the slide deck is scaffolding you will remove. Don't fall into the trap of polishing your slides and tweaking fonts when you should be revising your thoughts and practicing how you're going to express them.
Given a choice between a great talk with lousy slides, and a lousy talk with great slides, what do you think most audiences would choose? Prepare accordingly.
What do you put on the screen if presenting at a slide-dominant event?
I simply put together a slide with my name, the title of the talk and the basic contact information I want to provide. There's an argument that only having a single slide does far more to make you accessible to an audience interested in your work as the way to contact you is visible the entire time you're speaking, instead of just at the end. Here are two examples from two different events: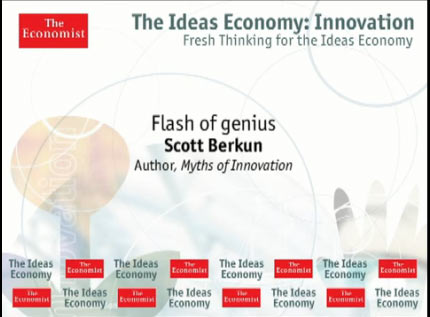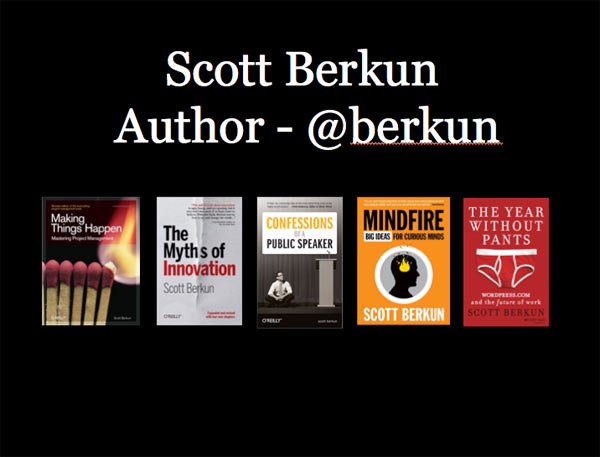 How do you get over the fear of forgetting something?
Many speakers use slides to mitigate fear. Slides used for this reason often come at the audience's expense. It's common to see speakers reading their own slides, or facing their slides as they present, clear signs they made their slides first, rather than constructing the presentation first and using slides to support their thoughts. Slides should be for the audience, not for you.
If you work hard to have clear points, and you practice it's unlikely you'll forget anything important. Even if you did forget something, only you will know. Since there are no slides, as the speaker only you know what you planned to say. You could skip an entire point or express it in a completely different way than you intended and no one will know but you.  Slides can lock you in and if you are a true expert on the subject you're speaking about you may find advantages in flexibility.
The notecard
When I speak without slides I usually have one small piece of paper listing my 5 main points. For my recent keynote at Warm Gun 2013 on The Dangers of Faith in Data, here's what I brought with me on stage: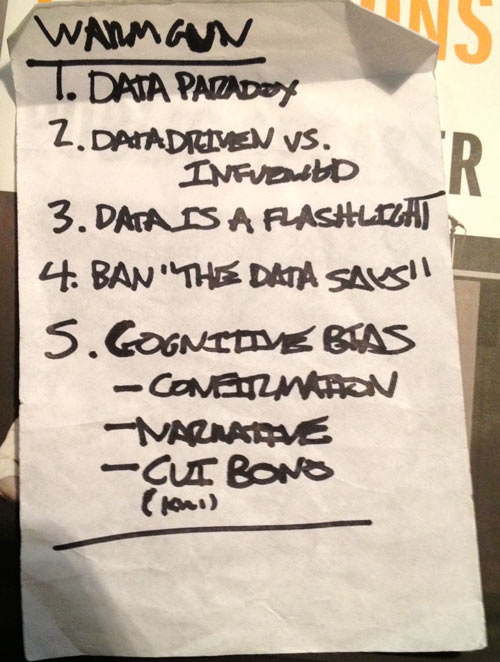 This notecard is short and simple. Since I've thought hard about this topic and have practiced the talk, all that I need the notecard to do is remind me of the next point, and the overall structure. I cheated on #5 as it has sub-bullets, but I simply found while practicing I couldn't recall all three, so I wrote them down. Churchill and some other famous speakers used similar lightweight systems for their speeches.
You can see the notecard on the conveniently transparent lectern: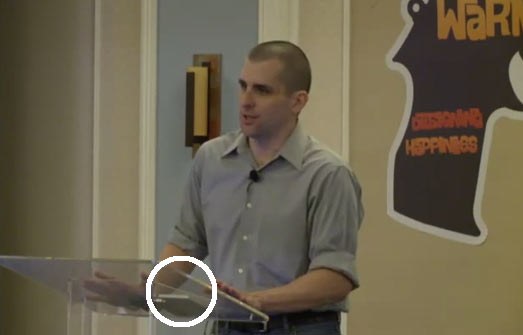 What about the handout problem?
If I prepare my talk as described above, it's easy to write up a blog post with the same structure.
Here's the blog post, titled The Dangers of Faith In Data, which I wrote in less than an hour while the ideas were still fresh in my mind.
Watch the actual talk based on the above
Now that you know how I prepared and practiced, you can watch the actual talk and judge for yourself. You'll see me look down at the notecard,  but it's typically while I'm silent and trying to let the audience digest what I just said, while I collect myself to lead into the next thought.
Free Checklist For Great Talks (with or without slides)
You can download a handy, comprehensive, printable checklist for giving great presentations here (PDF) based on the bestseller Confessions of a Public Speaker.