How To Write a Second Draft
As I've been working on The Year Without Pants, I wrote recently about how to revise a first draft, including what I call The Big Read: where you sit down and read through the entire draft in as few sittings as possible.
The result of that big read is a manuscript that looks something like this: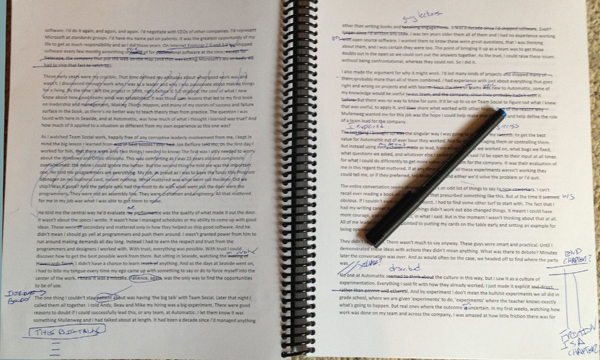 This set of pages had more notes than average, but every page has commentary from me. I avoid rewriting as I read, focusing instead on giving myself as much advice and input for the actual rewrite, which happens later. There are many different kinds of suggested changes I note for myself:
Trivial typos, phrase changes, and line edits. If I catch something quickly I'll suggest a change, but otherwise I'll mark it with a question mark or circle.
Sentences or paragraphs that are redundant. If it reads redundant to me, it definitely will to a reader. I edit harshly. Having a complete first draft makes this easy, since I know no single paragraph matters as much to readers as it might to me.
Questions I need to answer to justify keeping a passage. As a reader I note things that don't make sense, need better explanation, or sections with style problems such as unfunny jokes, distracting self-aggrandizement or even arguments that I myself question.
Notes on things repeated across chapters (probably should be killed). In a book length draft there is always unintended repitition where I make the same point twice or more without acknowledging it. This is bad. It's like talking to someone with no short term memory.
Within chapter flow suggestions. Is the opening strong? the closing? Does each story and point flow? Can I reorder paragraphs to make it stronger?
Across book flow suggestions (should a chapter be earlier? later? killed?) – these are the scariest changes to consider. Moving large blocks of text around ripples through a book, forcing many other passages that need to be changed. This is why the big read is important: it's the only way for me to keep most of the book in mind during the second draft. If I worked on a 2nd draft over several weeks, I'd have a harder time remembering where everything is and how it was written and have more fear of big changes.
Second drafts also incorporate feedback from other people. This is a challenge: everyone gives feedback differently and none match what I do for my own drafts. For the Year Without Pants I had feedback from 10 different people to consider:
5 co-workers from WordPress.com
4 old friends who are good at tearing drafts apart
My editor at Jossey-Bass
My solution was to compile the feedback into a single file I could skim through at any time during the 2nd draft process. I'd keep the manuscript open in one window, the notes from everyone else open in other windows and my hand edited print out of the first manuscript by my side. Then I could jump between them if needed to compare their thoughts.
The actual Rewriting is far easier than Draft writing
While it's not easy, the actual writing of a second draft feels much easier than a first. My creative powers can be applied to improving, rather than inventing. I can never predict which chapters will give the most trouble, but there are always 2 or 3 that I do heavy work on, rewriting or reorganizing large portions. Most chapters are simply me following my own notes from the read, filling in the blanks and answering the questions I asked.
I always have the goal of making the book shorter as it goes through revisions. Even if I add new sections or revise old ones I want the majority of my actions to be ones of concision. The book should get tighter and tighter as I work, with my effort clarifying the writing, making the book easier to read.
When the 2nd draft is done, it gets handed to a copyeditor who helps polish up my grammar. Check out my post on What Copyeditors do, with examples from my books.