The First Time I Saw The Web
In honor of the 30th anniversary of the web, here's my story.
I was a senior at CMU in '93/'94 and for my computer science classes I spent many long hours in the computer labs, called clusters, working on programming projects or doing other schoolwork. Many of my friends hung out in clusters and it was common to see new software friends had found, or in some cases, made. I worked mostly in the Unix rooms, where all of the DEC and Sun workstations running X-Windows were, including their hockey puck shaped mice.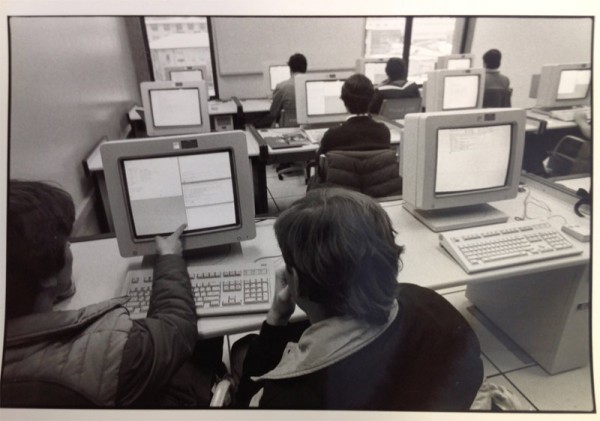 Late in '93 or early in 1994 I remember being in Baker Hall, one of my favorite clusters, sitting in the back row (the photo above is from Ween Hall, a similar cluster, via CMU Archives, analysis). I wasn't enjoying whatever I was doing so I looked around the room. Someone had a window open on their workstation with all sorts of images and text in it, and I asked him what it was. He told me it was Mosaic and he told me how to install it, which I did. I played with it for a few minutes, found it cute, and didn't touch it again. There were only a few hundred websites and most of them were junk.
There were no search engines. There were no maps or guides. The joke was "There is nothing worthwhile on the web, and you will never find it anyway."
Here's how few websites there were, by year:
6/93: 130 websites
12/93: 623 websites
6/94: 2,838
12/94: 10,022
6/95: 23,500
1/96: 90,000
Today: 1.8 billion
Source: [source]
What I can tell you is NO ONE thought much of the web at the time. I didn't know a single person anywhere, in school, real life, or online, who thought this would ever become something mainstream, much less dominate the future, as the walled garden of AOL dominated how ordinary people interacted with each other online.
That year I read the first issues of Wired magazine, and even wrote for them, and they barely mentioned the web either. It just felt like yet another odd academic project, with few people using it. The Internet, meaning email, gopher, telnet and newsgroups, was something I'd been using in class for years (including The Andrew Project). I'd worked with Hypercard, Director, and studied different forms of hypertext tools in class. I knew about Project Xanadau.  This "web" just seemed like yet another thing. And HTML, wasn't even a proper "language" with barely any functionality other than crude text, links and images.
I remember eventually visiting the Yanoff page. It was what other people told me was the "best place to start with the web" (This is the only image I could find of Yanoff's page, shown in the Windows version of Netscape).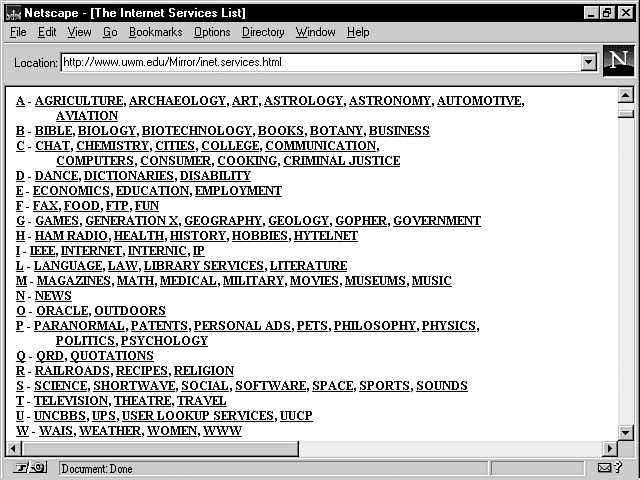 I was hired at Microsoft in 1994, and in early 1995 joined the Internet Explorer 1.0 team (where I'd work until version 5.0). Even then the web was far from mainstream. It was progressive for Windows to have a web browser at all, even though the first version shipped only in The Plus pack, along side screensavers and utility programs.
It wasn't until the browser wars of 1996-1999 that the industry first shifted to focus on the web and the Internet, and only as society shifted from using dial-up modems to broadband, and eventually mobile devices, in the 2000s did it become central to most people's lives. It wasn't until 2001 that AOL saw it's subscribers decline as direct access to the web became commonplace.
Lesson: The future often looks strange in the present. Any idea with the power to transform the world won't make much sense at first. This is one of the best lessons from the history of innovation: if you want to be part of the future, keep weird stuff around.
When did you first see the web? Leave a comment, or write a blog post about it and I'll link to it.
[Updated March 12, 2019]