The Goal of My Life Explained (tattoo included)
The photo below explains my ambition: I'm working to fill this shelf with books I've written. I want an interesting life which requires doing unusual things and having unusual goals. This is mine. Will I achieve this? I really don't know, but in having this goal I believe I'll live the kind of life that I want. What's your big goal? How do you remind yourself of what it is? I find both these questions fascinating and I thought I'd share my answers as it might be helpful to help you figure out yours.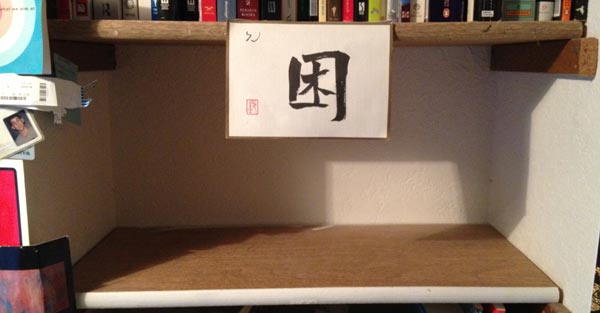 When I quit my first career as a tech manager in 2003, I primarily wanted to try another way to earn a living. I was afraid if I didn't try I'd have the same career forever and that scared me. What else is out there? I felt I owed it to myself to try and see what I could possibly do and who I could I might become. I was lucky that I had a window of opportunity to try (no kids yet, little debt) and thought those that don't would probably tell me I was foolish not to take a shot.
Books had changed my life many times and I wanted, hopefully, to write books that helped other people in a similar ways. Since I saw the shelf many times a day (it's to my right as I type this) I decided it was the perfect spot to have some kind of reminder. Even when I finished a new book, the reminder would always be there. When my first book was published in 2005 I put this simple photo above on the author bio page.
It's a cliche for Americans to swoon over Chinese symbols, misunderstanding what they mean and not bothering to study their meaning or context. As my Chinese speaking friend Jeff likes to joke, "Uh, that symbol tattooed on your arm doesn't mean Great Love, it means soup dumplings." I did my homework and understand its legitimate meaning (often used to mean sleepy, or something that's kept hidden or locked away), but it also has a specific meaning to me.
Around the time I decided to quit, which took me over a year to work up the courage to do, I found this card at Uwajamaya in Seattle around the time I quit my job. I liked what it claimed the symbol meant (see below). I love the quiet strength of trees and it matched how I needed to be to reach my goal. The I Ching references the symbol as Hexagram #47, which has various meanings, including the one on the card. I've learned in common Chinese the symbol/word is often used to means confinement (one of the other meanings suggested by the I Ching), trouble or sleepy more than overcoming, but that's OK. The symbol has adorned my shelf for so long it means something specific to me regardless of its common meaning.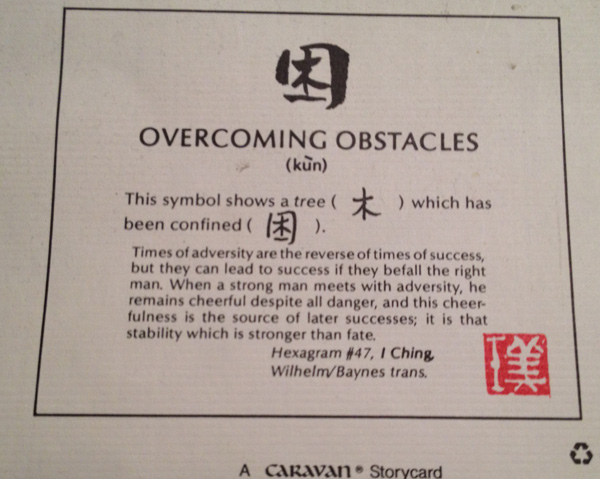 Years later I've written 5 books, [8 as of 2020], and the shelf looks like this (see below). I have a long way to go. Translated editions don't count, as that'd be cheating, right?tag=scottberkunco-20 I'll need to write about 25 books to fill the shelf which will likely demand most of my working life. That's fine. I have nowhere else to go and no goal as meaningful as this one.
Although it's a volume goal, I have no interest in writing bad books. I also have no interest in writing unnecessarily long ones. My essay collection Mindfire is comprised of revised essays from this blog, but I'd feel it was cheating if most of the shelf was recycled material. One book in five seems a fine pace for compilations and such.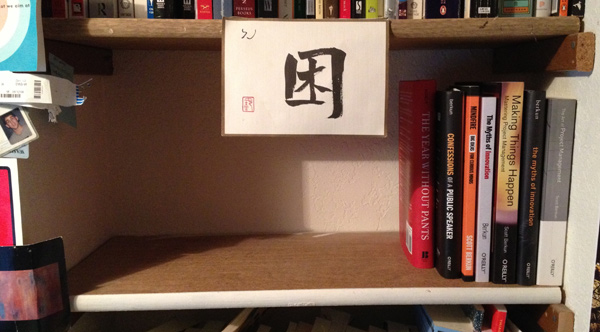 Occasionally I'm very fortunate to have people interested in hiring me for very nice conventional jobs where I'd have more security and income, but then I look at the shelf. More security and income are desirable, but they have limited bearing on my ability to fill the shelf. So as tempted as I might be, I say no (The Year Without Pants was a notable exception). Writing and speaking are my only means of income.
Another reason I like this goal is writing books demands many things:
Polymathic thinking
Study
Curiosity
Passion
Connecting with friends and colleagues
Making new friends and relationships
Commitment to an idea
In the process of writing a book I'm forced to do many things in line with the kind of life that I want: An interesting one. As long as I focus on the shelf, many other good choices are forced naturally.
Most authors repeat themselves, writing the same kind of book repeatedly. The marketplace rewards familiarity and a writing life is hard enough, so I understand why it's common. Many of our most popular authors publish in narrow ranges. This is wise and lucrative, but also limiting (the most curious perhaps are authors who exclusively write about creativity, which in a way is not very creative). I'm taking the opposite approach for as long as I can. I've never written a sequel, because we all know how underwhelming sequels often are. I have no shortage of ideas for books and I'll keep moving forward until I'm forced to be more conservative, if that's even possible.
I want to be a writer in the largest sense. I want to be an artist. I want to take big risks with my skills, which will help me discover exactly what abilities I have or don't have and what good they can do in this world.
Last year I got my first and only tattoo. It serves as an additional reminder to me about why I'm here and what my goal is. I'm a writer which means I work with my hands. I wanted to keep the symbol with me, near my hands, all the time.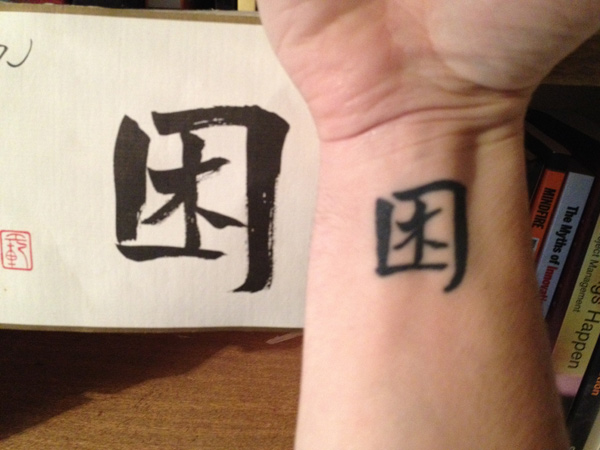 That's my story. If you see me speak and notice the tattoo, now you know why it's there and what it means.
Follow As I Chase The Goal
Any encouragement is encouraged. Praise the crazy writer man! And thanks for supporting my work. Best wishes to you on your own goals.
You can follow me on Twitter, Facebook or on my simple monthly newsletter of my best posts each month.