Help me help folks in need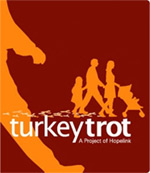 Innovation shminovation – some folks out there have trouble feeding their kids and staying warm. There are real problems out there that I often forget about.
This Sunday my wife, myself and our two goofy dogs are doing a 5k walk for the non-profit Hopelink.org. Unless you've recently done something cool for folks who need help, I'm inviting you to chip in and sponsor us on the walk.
They set up a personal website for my team, and it's easy,safe and fast to donate. You'll feel better. And most important of all: My dogs Max and Griz will think better of me, and you.
What to do: Go here and donate $1, $15 or more for our team, by paypal or credit card. Donate more than $50, and I'll send you a signed, first edition copy of the Myths of Innovation.
If you can't spare the cash, I hope you'll find another way to make a difference this holiday season.
More info on the event, including creating your own team: Hopelink Turkey trot 2008.
Update: Donations accepted until December 2nd 2007.